Neapolitan Gourmet Responsive Website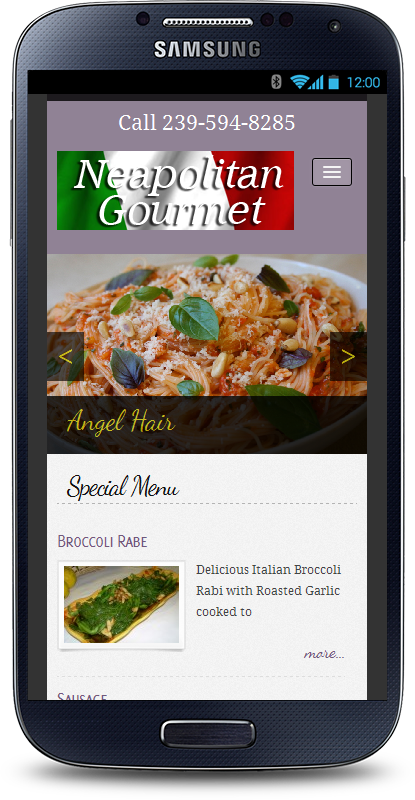 ---
Features Include:
Responsive Design
Huge slider to showcase your food
Menu items show huge image, pricing and description
5 star review for all menu items
Book reservation online
Twitter main page integration
Four square posts display on main page
Special menu items display on main page
Hours of operation on main page
Auto posts menu items to several social sites
Responsive image lightbox
Local store image gallery
Catering menu and gallery
Local map with driving directions
Touch to call for mobile devices
Google Places, Bing and Yahoo Local SEO
Social share and follow buttons
Product RSS feed and Sitemap
Facebook integration with direct link from fan page
Lets Eat Videos series
Displays perfect on computers, tablets and cell phones
Website Information:
The Neapolitan Gourmet, in Naples Florida was founded in 1996 by Chef Vincent Igneri from Long Island New York. Their gourmet homemade Italian food and Mozzarella cheese is made fresh daily.
They prepare their Italian delicacies, homemade Italian specialties, homemade prepared foods and a variety of sausages at their Naples location and they never ever use additives or preservatives. Their recipes have been handed down over the generations, originating from their ancestors in Calabria and Sicily Italy.
When was the last time you had manicotti that melted in your mouth?
The Neapolitan Gourmet imports the finest gourmet cheese from around the world.
---