Responsive Ecommerce Design
Our responsive e-commerce web design eliminates the need for a separate mobile website, content and images. Responsive e-commerce websites will identify the device that is accessing it and instantly convert the screen size to it match flawlessly. We offer several responsive e-commerce design options including online stores  and membership sites. Many local businesses are missing out and losing sales due to the amount of cell users searching for their products on smart phones right now.
The fact is, less customers are using phone books or Yellow Pages to find a local product or service they need. They are searching the internet with their computers and cell phones to look for products that you sell.
Does your business website display properly on the latest mobile devices or will your customer get frustrated and click the back arrow?
Please call 239-919-3646 to discuss your exact e-commerce web design needs.
Our consultants will be glad to put together a special e-commerce price quote for you.
Ask about our website update packages.
Live Customer Responsive E-commerce Websites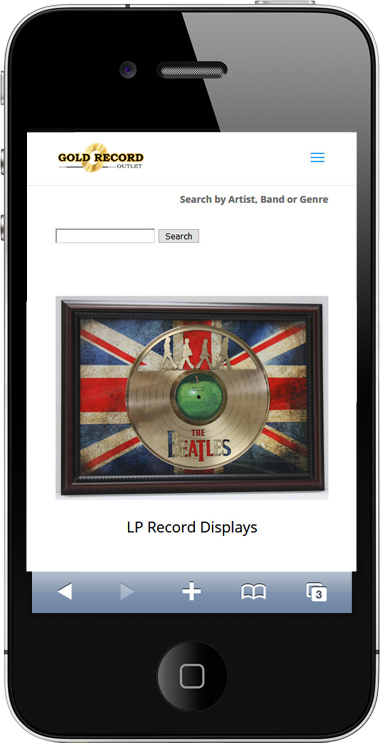 Website: Gold Record Outlet
See our complete website design portfolio.
We offer several responsive e-commerce themes for you to choose from.
E-commerce 0 Products Package Includes:
WordPress install
Responsive e-commerce theme install
Legal pages, contact form and sitemap
Basic WorPress plugins
No graphic design or page text
This package is designed for experienced WordPress users
E-commerce 10 to 40 Product Package Includes:
WordPress install
Responsive e-commerce theme install
Legal pages, contact form and sitemap
Essential WorPress plugins
Custom login screen
Basic on page SEO
Graphic design for logo, slider images and products
Local map with driving directions
Tap to Call for Mobile users
You supply the images and text in MS Word format
90 minute training session includes:
Basic navigation
Website editing
Image uploading
The theme shown offers the following features:
This WordPress theme offers boutiques, retailers and indie labels and e-commerce solution to sell through their website. Cloth will give the customers a smooth, attractive, easy, fun shopping experience and they are more likely to complete the purchase and they are more likely to come back again later.
This theme comes with very minimal design with no eye-strain using a white background, but it's still highly fashionable and edgy enough to get attention. Although we developed this theme with fashion product in mind, it is also suitable for any kind of products.
New arrivals
Keep your visitors updated with new products from your online shop. This element will be automatically updated when you post a new product. Your five latest products will be shown.
Easy and quick shopping
Sometimes too much details are not necessary while shopping. When a product is hovered, two buttons will appear. One brings up the product page and the other puts the product directly to the cart.
On Sale products
Discounted items will be shown as on-sale products. They will be marked with a simple green ribbon at the top left of the product image.
Cart details with a cool effect
Never again will your customers forget which products they have added to the cart. They can hover over the green ribbon at the top right and the cart details will be shown.
Three types of content layout
You can set which layout you want to choose for your content pages. Cloth comes with 3 types layouts: Content-Left, Content-Right and No-Sidebar.
* Requires web hosting and domain name, click here.