Responsive Website Design
Our responsive web design eliminates the need for a separate mobile website, content and images. Responsive websites will identify the device that is accessing it and instantly convert the screen size to it match flawlessly. Many local businesses are missing the boat and losing sales due to the amount of cell users searching for their products on their smart phones right now. The fact of the matter is, less and less, customers are using a phone book or Yellow Pages to find a local product or service they desire.
They are searching the internet with their computers and cell phones to look for products that you sell. Does your business website display properly on the latest mobile devices or will your customer get frustrated and click the back arrow? Please call 239-919-3646 to discuss your exact web design needs or click here. Our consultants will be glad to put together a special price quote for you. Ask about our website update packages.
Live Customer Responsive Websites
[advanced_iframe src="https://vippoolcare.com/" width="100%" height="1900″]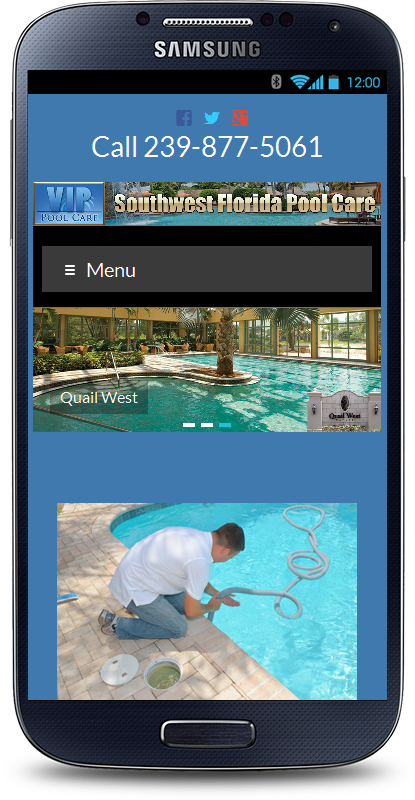 Website: VIP Pool Care
See our complete website design portfolio.
We offer 57 responsive themes for you to choose from. Responsive 0 Page Package Includes:
WordPress install
Responsive theme install
Legal pages, contact form and sitemap
Basic WorPress plugins
No graphic design or page text
This package is designed for experienced WordPress users
Responsive 5 to 20 Page Package Includes:
WordPress install
Responsive theme install
Legal pages, contact form and sitemap
Essential WorPress plugins
Custom login screen
Basic on page SEO
Graphic design for logo, slider images and photos
Local map with driving directions
Tap to Call for Mobile users
You supply the images and text in MS Word format
90 minute training session includes:
Basic navigation
Website editing
Image uploading